Portfolio - Advertorial Copywriting
Get the Message Out With Smart Advertorials

Good advertorial copywriting is a skill. A good advertorial copywriter knows how to get your message out clearly to your target audience.
And a good advertorial copywriter is able to maintain the delicate balance between assertive selling and purely informing the reader about the product or service. The mark of a well-written advertorial: one which states the benefits of your product or service clearly and persuasively but without the aggression of a hard sell.
As an experienced Singapore copywriter, I can help you get your message out by writing smart advertorials that read like just any news article.
Advertorial Writing Samples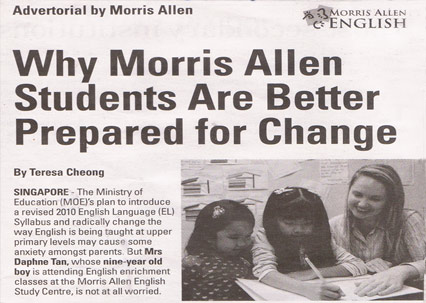 Client: Morris Allen English
Project: Advertorial Copywriting for publication in newspapers
Morris Allen English is an established English enrichment learning centre in Singapore. Client has requested copywriting for an advertorial to be published in a local newspaper in Singapore. Advertorials are ads that look and read like news stories. They can generate very good response if they are well-written with product or service benefits clearly articulated without appearing to be "hard sell".
Client's response to the finished advertorial: "...very well-written, exactly the type of advertorial we are looking for."
Effective advertorials get your message out without any hard sell. Find out more from experienced advertorial copywriter.

Business Writing | Tender Writing | Web Writing | Return to Home

Teresa Cheong, Singapore Copywriter, Business Writer and freelance copywriter for all your writing needs