admin May 16th, 2008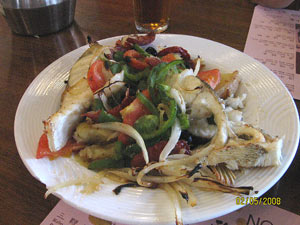 THINK fusion when you dine at Nga Tim Cafe, one of the "must go" dining institutions in Macao. When I was in Macao recently, I had lunch at the cafe and ordered a Portugese style pan-fried garoupa dish from the menu. The dish came as chunky sizes of fish and surprise, surprise – thin slices of dried Chinese sausage or lap cheong. Preserved Chinese sausage in a Portugese dish? An interesting fusion touch. But too bad, the lap cheong was a tad too salty and fatty. I didn't finish it.
[ad#ad-3]
Adding color and fibre to the dish were slices of green pepper, tomatoes and fried onion strips. I found the generous slices of garoupa succulently fresh and chewy.
But Nga Tim Cafe had a different kind of appeal for me. Its odd, eclectic decor was an amusing conversation starter. You know how laid back and carefree the place was from the old Christmas trimmings that still strung across the ceiling. On the wall, a pin-up calendar of Chinese opera singers looked menacingly over hungry diners. And for some unknown reason, huge swaths of white cloth were wrapped around the trunks of the two gigantic banyan trees that stood on the site of the cafe. The irreverent mix of decorative styles gave the cafe a quirky, off beat charm.
I like the 'anything goes' kind of spirit of the place. On a hot afternoon, Cafe Nga Tim is an affordable place for shade, an iced cold local milk tea and a view of the Coloane village square.
Getting there
8 Rua Caetano, Largo do Sao Xavier
Macau