admin May 15th, 2008
COBBLED streets are uneven and uncomfortable for walking but a curious traveller knows they usually lead to somewhere old, somewhere historical and interesting. Think of the cobbled piazzas in Florence and the stone paths leading to the Uffizi Museum in Florence.
[ad#ad-3]
My most recent escapade was closer to home – the old Portugese quarter of Macao which was a maze of cobbled streets and quaint side lanes dating as far back as the 16th century.
I found myself looking not up at the destination the ancient steps were leading me, but looking down at the fascinating cobbled street art underneath my soles. See how stones of varying sizes were forged to form an enduring work of street art.
Here is one of them: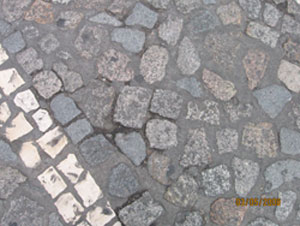 Not fascinated with stones? Walking barefoot on uneven cobbled stones is good for the feet. Stimulate the feet's accupressure points, health experts say.
[ad#ad-3]