admin May 14th, 2008
FORGET the glitzy casinos when you're in Macao. If you're in Macao during this time, the new casino belt in Taipa is a mega construction site. Instead of throwing your year's salary to a game of chance in the casino city, discover the gentler side of Macao with this self-guided tour.
[ad#ad-3]
Five Other Things To Do In Macao
Hop on a bus tour to Hac Sa Beach
This is a self-guided sightseeing tour. Hop onto bus 26A from bus stops along Av de Almeido Ribeira on the main Macao island. Make sure you board the bus going towards Coloane island. For five MOP (Macao Pataca) dollars or less than US$1.25, you get to see the sights of Macao and Coloane in air conditioned comfort. The bus takes you on a 50-minute ride to the last stop – the famous Hac Sa Beach ('black sand beach').
Tour of old Portugese Churches
Don't just stop at the ruins of the iconic St Paul's Cathedral. The Old Quarter of Macao is littered with old Portugese churches which are still a draw for the 22,000-strong Macanese Catholics. Explore the cobbled streets and look for the Church of St Augustine, Church of St Lawrence, and the Macao Cathedral.
Stroll Around Coloane Village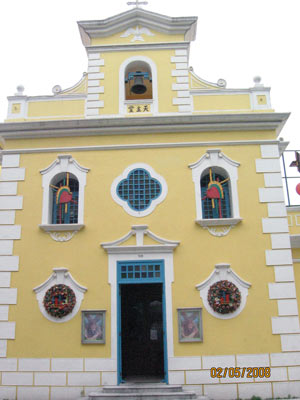 No visit to Macao is complete without a stopover at the Lord Stow's Portugese Egg Tart shop and a visit to the mustard-colored and baroque-styled Church of St Francis Xavier in Coloane Village. Bus No 26 plies between the centre of town and Coloane with stops to board at Av de Almeido Ribeira, Hotel Lisboa and New Century Hotel.
Soak in the history at Macao Museum
This is a delightful boutique museum perched on a hill opposite St Paul's Cathedral. Sensitively restored, the interactive museum makes history fun. Try the interactive exhibits depicting the old Macanese way of life. The sights and sounds of traditional hawkers and firecracker makers come alive with the press of a button!
Delight in Street Cafe Culture
Brand name cafes have yet to invade Macao. There is only one solitary Starbucks cafe near Senado Square in the heart of town. Join the locals for coffee, milk tea and snacks at homegrown joints such as Cafe Eskimo or the Singing Cafe.
[ad#ad-3]