admin May 20th, 2008
THE lack of budget shouldn't stop anyone from travelling anywhere around the world. You can travel to far flung places without ever setting foot in the country. I spent two absorbing weeks "travelling" on foot across central Afghanistan, from the city of Herat on the west to the capital, Kabul on the east.
[ad#ad-3]
I "travessed" through mountains covered in deep snow, slept in mud houses in villages with no electricity, televison or flush toilets, explored 14th century medieval forts and ruins. And along the way, met hospitable villagers and suspicious Afghan tribal elders, heroes and gun-trotting teenage soldiers.
I came home unscathed of course because I never left home in the first place and I didn't even set foot on Afghan soil.
[amazonify]0156031566:left:product:lifebrcommun-20[/amazonify]
I encountered the Tajiks, Aimaqs, Ghorids or the Hazaras through the eyes of a nutty Scottish guy by the name of Rory Stewart. He's a self-styled historian who decided one day to walk across war-wary Afghanistan. Now, this crazy Scot is a prolific walker. He spent 16 months walking across Iran, Pakistan, Iran and Nepal in his earlier life.
Of the many non-fiction books I've read, Rory Stewart's The Places In Between ranks very highly on my recommended list of travel books you must read in one's lifetime. Click on the left image for some quick book reviews.
Reading great travel tales by insipid travellers is the safest way to see war zone countries without getting killed, burnt or maimed.
this is my older edition of the well-thumbed book…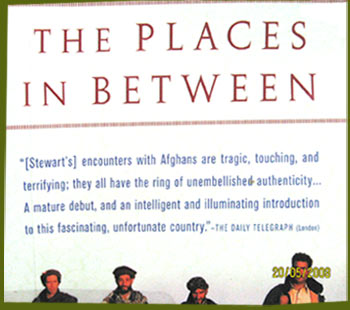 [ad#ad-3]
The Places In Between is an extraordinary brave travel journey and a wonderful, absorbing travel tale of a resilent people, the Afghans.
Get the book.