admin May 13th, 2008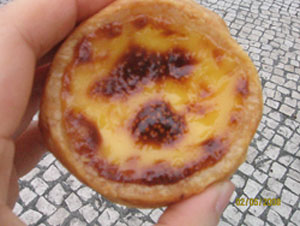 IT WAS love at first bite when I sank my teeth into the crispy pastry crust filled with a crème brûlée-like egg custard that literally melts in your mouth. The Lord Stow's Portugese-style Egg Tart was simply divine. I had my first bite of this famous chain of egg tarts during a recent trip to Macao in May 2008. I've read claims about it being the "best in the world."
Well, you never know unless you try it.
[ad#ad-1]
My verdict? Yes, it tops all the other versions of egg tarts I've ever tasted. It tastes so goooood.
Reason? The caramelized glaze on the surface of the egg tart gave it a distinctive aroma and taste – that lingered to tease your tastebuds long after the first bite. And the pastry crust was of the right thickness. You don't need to chew through a thick chunk of pastry to get to the delicious custard filling.
A box of six of the Lord Stow's Portugese egg tarts cost MOP/HKG 40. I finished two boxes in two days!
Getting there:
Lord Stow's Portugese Egg Tarts
1 Rua da Tassara
Coloane Village
Coloane Island
Bus 26A will take you there. Take the bus from Av de Almeido Ribeira, Macao Island. This is a major road fronting the Senado Square so you can't miss it. Or, grab a taxi. Beware though, it's terribly difficult to get a cab out of Coloane Village. Call for a cab.
[ad#ad-2]